Bee Nest Identification
When honey bees swarm they are looking for a new place to set up home. The original colony has become too large for the existing nest so they split in half and swarm.
Problems occur when swarms take up residence in people's homes.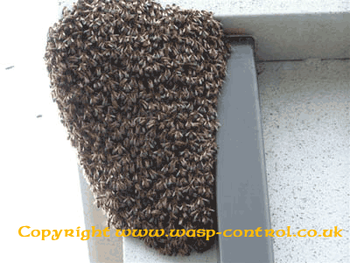 When a swarm is clustered they send out scout bees to survey the area in search for a suitable place to nest.
If you notice a few honey bees paying attention to a particular place and the numbers increase over a few days, these are scout bees.
Nothing can be done about these as the main swarm has not arrived yet.
Numbers of scout bees can range from just a handful to several hundred.
Scout bees can disappear just as quickly as they arrived.
If a swarm arrives, it will be chaotic with thousands of bees flying about in all directions.
They will settle down and cluster together fairly quickly before entering their new home.
Often a swarm will leave if the space is not big enough for them to make a new nest.
Bee nests in chimneys
Chimneys are a favourite place for honey bees to nest. As the swarming season is in the summer, most chimneys are not in use and bees will take advantage of this.
A swarm will arrive seemingly from nowhere and often the first signs that a swarm is in the chimney is a lot of buzzing noise coming from the fireplace and a lot of bees falling down the chimney.
If you are in this unfortunate situation, if possible light a Smokey fire as quickly as possible, this is often enough to shift the swarm back out and they will normally move on.
If the bees have been there for a substantial amount of time (a few days or more) then they will already have built honey comb and will need to be dealt with in a different manner.
In almost all cases, bees in chimneys cannot be extracted and re-located.
Keep in mind the laws regarding the treatment of honey bees: if treated with a residual insecticide, all entrances must be blocked after the bees are dead.
We recommend that bees in chimneys are treated with a smoke generator (a smoke generator emits a smoke with an insecticide impregnated in it) then once all the bees are dead, all honey comb removed by a chimney sweep.
To identify bees in a chimney, look at the top of the chimney pot from outside, there will be a lot of activity around the pot.
Honey bees in chimneys make a lot of noise, listen to the chimney from the fire place, if you hear lots of buzzing noises it is most probably honey bees.
Wasps also do nest in chimneys but the numbers of individual wasps compared to bees will be a lot less, wasps are quieter than honey bees.
Bumble bees do not normally nest in chimneys.
Bee nests in cavity walls
Honey bees will nest in the cavity of walls in buildings. It is not financially viable to pull down brickwork to remove honey bees or honey comb, so if the bees need to removed, normally they are treated with a residual insecticide and once the bees are dead, the entrances are blocked to prevent other foraging bees gaining access to the honey which has been stored in the comb, also to prevent re-colonisation at a further date.
If honey bees are nesting in your wall, you will see them bringing in pollen on their legs (usually little yellow balls attached to each back leg), there will be a large number of individuals, usually in their thousands.
Take a look at our short video of honey bees, you will notice the yellow marks on them, this is pollen.
Bumble bees also nest in cavity walls and often in air bricks.
Bumble bees are rounder and fluffier than honey bees, the numbers will be far less, usually 50-100 bees in total.
Bumble bees are not protected, but we would only suggest destroying them if they are particularly aggressive or located in a inconvenient situation and cannot be removed and re-homed.
Bee nests in bird boxes
Bees nesting in a bird box are almost guaranteed to be Bumble bees. The good news is Bumble bees in bird boxes are very easy to re-locate, contact your local pest controller or beekeeper and they will come along (in the evening) and move the box away to a safe location. Most charge for this service.