Wasp nest removal
Should a wasp nest be removed after treatment?
In some circumstances Wasp Nest Removal needs to be carried out if the nest is blocking an entrance or poses an immediate risk to the public. However if you have a wasp nest that is just in a normal position, for example in your loft, then there are some very good arguments for leaving the nest in its present location after it has been treated.
The nest is not dangerous once all of the wasps have been dispatched. The nest is just the structure which the wasps have made (by chewing wood) to live in and is only used for one season.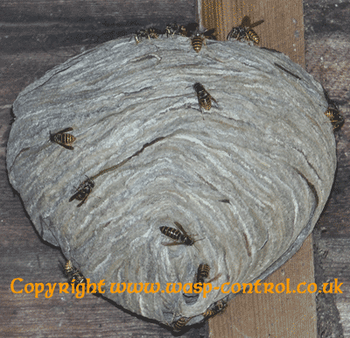 If a wasp nest is treated using Ficam D (a professional use insecticide dust), after the wasps have died, the dust remains in the nest but has quite a long shelf life which will sit there waiting for its next victim. Very often after a nest has been treated, other wasps from nearby nests will attempt to raid the treated nest as it is now un-defended. As these "scavenging" wasps enter the nest, they too get the dust on them and die, so now the treated nest is actually killing wasps from another nest.
If the nest is left in place, in the spring when queen wasps which are emerging from their winter hibernation start exploring potential nesting sites and encounter the treated nest, there is a good chance that they will investigate the treated nest and succumb to the dust, and therefore will die before ever having the chance to build a new nest.
We advise that wasp nest removal should only take place when the nest is posing a problem or is in the way. The vast majority of wasp nests can be treated and left where they are.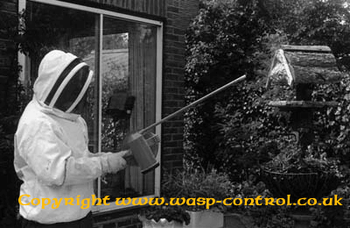 How long does it take to remove a wasp nest?
If your wasp nest needs to be removed, for whatever reason, it is better firstly to have the wasp nest treated and then after any foraging wasps have returned and succumbed to the insecticide, the business of wasp nest removal can be undertaken.
The removal of the wasp nest will not be on the same day as treatment to allow foraging wasps to be dealt with. Sometimes pest controllers will charge an extra fee for returning and removing a nest so it is advisable to check what their charges include before engaging their services.
If a wasp nest is treated with a quick knock down treatment such as a wasp nest foam treatment and removed straight away, the wasps that are out foraging will not have been killed and will return to the original location of the nest which has been removed. It has been known for surviving wasps to start rebuilding a nest from scratch after the original nest was treated and removed using quick treatment methods.
If you think you need to have your nest removed, discuss this with your local wasp controller to identify the solution which best suits your individual requirements.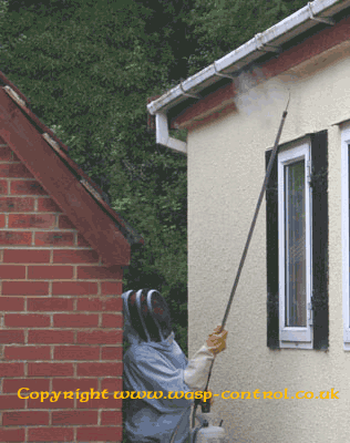 If a wasp nest has been treated with Ficam D and you want it removed, we advise that you leave the treated nest for at least 24 hours before attempting to remove it. This is to prevent you coming into contact with any live wasps which may have been out of the nest at the time of treatment and then subsequently returned. Some foraging wasps do not make it back to the nest each day and occasionally one or two wasps will arrive the day after treatment. It is inevitable that some wasps will spend nights locked in sheds or houses after a day spent hunting for food.
Removing a wasp nest yourself
If you decide to remove a wasp nest yourself, the first thing to ensure is that the nest is not occupied. If you are unsure whether the wasp nest is live, do not attempt to remove it or touch it. The smallest vibrations are enough to provoke wasps into attacking.
If in doubt call your local wasp controller and seek advice.
If you are sure the wasp nest is not occupied and you want to remove it yourself, we recommend wearing gloves and using a bin liner to put the nest in. Wrap the bin liner around the nest, trying to get as much of it as possible into the bag. The nest can be easily detached from its surroundings and will break apart as it is made from a thin paper mache material which crumbles very easily. The core of the nest (comb part) is a little more resilient but will also break apart without too much effort.
Once the nest is in the bin bag, seal the bag and place in the waste bin.
FAQ'S
Do I have to be out of the house when the nest is removed?
No. Your nest will have to be treated before it is removed. All the wasps will be dead at the time of removal so it is perfectly safe to be indoors when the nest is taken away.
Do I need to remove a wasp nest which is outside?
If you have a wasp nest located outside there is no need to have it removed. It will never be used again and will degrade over time.
Can I remove a wasp nest which is underground?
If you have a wasp nest underground and feel the need to remove it. You will need to have it treated first. Once the wasps are dead, you can dig it up and dispose of it.
Will the pest controller need me to provide any equipment to remove a wasp nest?
No. The removal of the nest is a straightforward process which involves breaking the nest apart and placing into a bin bag.
Does a wasp nest cause any damage to my house?
A wasp nest can cause damage to property. If the nest is located on top of a plasterboard ceiling the nest over time can become damp (as insect food drops to the bottom of the nest) thus causing the plasterboard to soften and eventually give way. Wasps can also chew material (often plasterboard walls) in close proximity to the nest in order to make space for nest expansion.