Wasp Removal UK - Wasp Nest Removal Services
Have a wasp nest or hornets nest? Find your local wasp control specialist and get rid of your wasps today!
Welcome to Wasp Removal UK (formerly known as: Wasp Control UK).
Please take a moment to read the information on our pages, they will answer a lot of your questions regarding wasp nests, what to look for and will help you understand the questions that your local wasp controller will ask you.
The wasp nest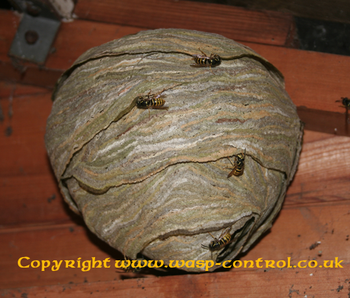 The wasp season begins with queen wasps emerging from winter hibernation in spring time when they start to build their new nests. Please take a look at our wasp lifecycle page; it gives details of the life of a wasp from spring to autumn.
We have a page dedicated to the wasp nest which describes the nest building process plus the materials wasps use to build their nests and the time line of the wasp year.
Contrary to popular belief wasp nests are not re-used year after year.
Find a local pest controller
Please use our postcode finder on the top left of each of our pages to find your local pest controller.
Each of our registered members has their own page which shows the locations they cover and some info about their company and the types of pest species that they deal with.
Businesses listed on Wasp Control UK are all privately owned pest control companies which serve their local areas. When you use a company registered on Wasp Control UK you are supporting your local community and economy.
Wasp Control UK has been designed with both customer and independent pest controller in mind.
We believe that local independent pest controllers provide a quality service at reasonable rates, whereas some of the larger "nationwide" companies often charge more than what we consider is reasonable. This is partially because of their large overheads and but also due to expensive advertising and branding campaigns. Very often the expertise is not what it should be.
Please keep in mind that a local independent pest controller has to keep his customers happy,
it is his livelihood at stake!
Need a question answered?
If you have a question about wasps, hornets or bees that you would like answered, we have provided a search function which can be found at the top of each page on our site.
Simply type in your question and we will endeavour to supply you with the relevant answer.
We have replaced our old forum with some dedicated pages focusing on frequently asked questions about wasps, bees and hornets. Take a look at our questions and answers about wasps pages.
Locating wasp nests and hornet nests
Wasps and hornets often build their nests in hard to reach places, such as lofts, cavity walls, underground and many other, out of the way places.
Often, people know they have a wasp nest or hornet nest, but cannot find the location of the nest.
Please take a look at our Wasp Nest Identification page, the information describes the type of places where wasps & hornets are likely to make their nests and what to look for when locating wasp nests or hornet nests.
If you are certain that you have a nest present but cannot find it, please contact your local pest controller and seek advice.
Getting rid of wasps
Once you have located your wasp nest and established that it is an active nest, take a look at our wasp nest control page which describes the treatment used to destroy both wasp and hornet nests and will give you an idea of what to expect when a pest controller arrives at your door and how he will get rid of your wasps.
We also provide information on wasp nest removal and why it is normally better to leave the nest in place after treatment. Most pest controllers provide a wasp nest removal service but normally charge a little extra to remove a wasp nest; this is due to repeat visit once the nest has been treated.
If you require a wasp nest removal service, please contact your local pest controller and seek advice.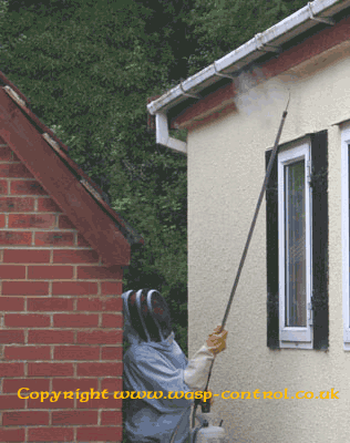 Wasp Stings
We have written a few notes about what you should do if you are stung by wasps or hornets and how to recognise the signs of Anaphylactic Shock
It is important that anyone showing symptoms of Anaphylactic Shock should seek medical attention straight away.
Hornets
The hornet is much bigger than a common or European wasp, but it is still considered to be a wasp.
Intuition would dictate that as the hornet is a bigger variety of wasp, then it must be more aggressive. This is not the case.
The hornet sting is a bit more potent than a regular wasp sting, but they are no more aggressive or likely to sting.
Care should always be taken when in the presence of any of the wasp species. We have a page on the hornet life-cycle which provides more in depth information about this fascinating creature.
Have a bee swarm?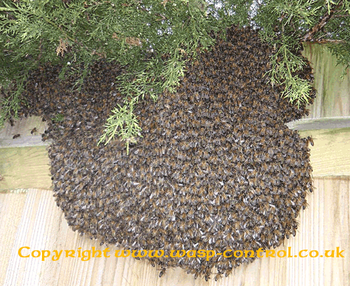 Every spring some unfortunate people find themselves with unexpected visitors, a swarm of honey bees. This has happened because the hive or nest has become too small to accommodate the entire population of bees. The swarm splits in half, with one half staying in the hive and the other leaves to find a new home.
We have more information on bee identification, which bee's sting and harmless bee species.
Read about bee swarms, why this happens and what you should do if you find yourself with a bee swarm.
We have a bee swarm collectors list which is constantly growing and covers the UK
If you have an established colony of bees and would like to have them removed, please take a look at our page on bee removal
There are some laws to consider when treating honey bee colonies and other factors that should be noted.
Wasp nest photos
If you are unsure of what a wasp nest looks like, or are just interested in wasps or hornets, take a look at our wasp nest image gallery. This is a selection of photos which has been uploaded by our pest control members and is constantly growing in size.
Wasp Traps
Due to lack of demand, we no longer supply wasp traps. We do still have details on assembly and how to position wasp traps.
Wasp trap assembly instructions
Where to set wasp traps
Please note: Wasp traps are not suitable as a substitute for having a nest destroyed, they are a preventative control method used to keep areas such as gardens free from nuisance wasps.
If you have a wasp nest present, please use our postcode finder to find your local wasp controller.
Wasp nest removal cost
The cost of having a wasp nest removed varies from company to company; an average cost will be £35 - £60. London prices tend to be higher at around £80. Most wasp nest removal companies will provide a discounted rate for any extra nests found on the property.
We advise employing a professional wasp nest removal company and avoid window cleaning and building companies. There should be no extra charges for climbing a ladder.
Find your local Pest Control specialist
You can find out who your local Pest Control specialist is by entering the first part of your postcode into our postcode finder at the top of our pages, or you can search by county, simply choose your county from the drop down list and you will be provided with a list of pest controllers working in your area.
You can navigate to any of our pages using our sitemap